About PRECISE
Vision
PRECISE will significantly strengthen the current research environment in Computing and Information Science and Engineering (CISE) at the UPR making it more diverse, competitive, and sustainable. It will help in implementing the Ph.D. CISE model as an academic program.
Mission
To facilitate, enhance and strengthen research in CISE while increasing the participation of women and minorities through a program that could become a national model.
Main Goals:
Increase the critical mass in CISE at the UPR system by adding a significant number of researcher able to:


Perform frontier research of impact for academia, industry, or society in general, and attract other researchers and students to their specialties.

Obtain and sustain competitive funding.


Increase significantly the number of masters and Ph.D women and minority with degrees in CISE.

Foster the formation of multidisciplinary research group activities.
Main Objectives:
Produce twelve (12) Ph.D.'s and eighteen (18) masters' students in five (5) years, half of them women.

Produce at least one journal publication per Ph.D. student and one refereed publication per master degree student.

Get one competitive research proposal funded per professor participating in the program.

Partner with mainstream universities in research projects.
Major Tasks:
Establishment of Solid Research Groups in CISE areas
Graduate MS and PH.D. Student Training
MS & Ph.D. recruitment,
Outreach to Industry, Academia, and Government
Automated Assessment of Project Activities
The PRECISE Project started in August 1999. Currently, there are 16 professors. There are currently five (5) research groups participating in the project:
Advanced Data Management (ADM)
Automated Information Processing (AIP)
Computational Statistics and Data Analysis (CSDA)
Parallel and Distributed Computing (PDC)
Human Computer Interfaces (HCI)
Management Structure: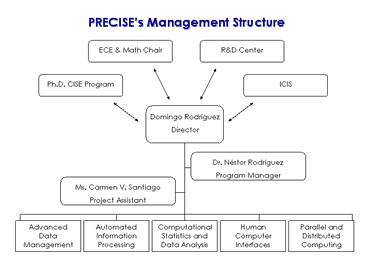 Click diagram to enlarge